Welcome to PyxWise
News Feb 2013
Feb 28, 2013
Pyxwise is absolutely thrilled that Simplex Spelling Phonics 1 was a second runner up in the 2012 Best App Ever Awards under the category of "Best Elementary Student App" and received an honorable mention in the category of "Best Special Needs App". There were more than 5,000,000 votes cast in the Best App Ever awards this year.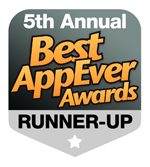 Feb 22, 2013
Want your child to learn phonics and word building? KinderTown suggests using Simplex Spelling Phonics 1 & 2 with activities.
KinderTown, is a great tool for finding the best educational apps for kids, just released a new feature called "Power Packs" which busy parents will love. Each Power Pack is a mini teaching guide tailored to helping parents teach their children new skills using apps, activities, assessments and other materials. The power packs are aligned to the KinderTown learning map and focus on developing skills that are important to children ages 3 to 8 years old. The goal of power packs is not only to help parents guide their children's learning, but to help them combine mobile app play with traditional play and create more educational experiences at home that don't involve technology at all.
KinderTown chose our apps, Simplex Spelling Phonics 1 & 2, for learning phonics and word building and pairs our apps with other activities in Phonics Power Pack, Levels 1st and 2nd. In the level 1st power pack, you'll find activities and apps that support advanced reading excellence. As you spend the next weeks and months focused in this area, your child will develop knowledge, fluency and independence as a reader. The activities and apps in this power pack take little time to set up or prepare for. Each tip and suggestion can be used in the time you already spend reading and writing with your child.

You can see an example of a Power Pack for free via SlideShare. Power Packs can be found in the free KinderTown app.
Feb 20, 2013
Kids App Reviews has now also reviewd Simplex Spelling Phonics 1 giving it 4.5/5 stars. Check out full review for more details.

Feb 16, 2013
We just discovered that Kids App Reviews was kind enough to review Simplex Spelling HD - Dolch Site Words giving it 5/5 stars. Be sure to check out the full review on the Kids App Reviews website.

"Simplex Spelling HD will be sure to help your child master their words and spelling. It's a well put together and intuitive app that uses the Dolch sight word list to teach spelling."

"This has to be one of the best spelling apps available. You should invest in this wonderful tool for your learner!"
Feb 4, 2013
KinderTown has selected Simplex Spelling - Advanced Phonograms as one of their Best Apps for 7 & 8 Year Olds.