Welcome to PyxWise
News Dec 2012
Dec 22nd, 2012
Pyxwise is thrilled that Apple has featured our newly released app Simplex Spelling - Advanced Phonograms as New & Noteworthy in 20 different countries including the US and Canada.

Dec 13th, 2012
Autism Plugged In (API) today reviewed Simplex Spelling Phonics - Advanced Phonograms. Jack Kieffer posted a video review of our latest app. In addition there is an informative written review to check out on API by Marnie Witters, a parent of children with ASD and ADHD. We're thrilled that Jack and Marnie really loved our latest app.

"As we know, most autistic children learn visually. Because Simplex Spelling provides both visuals and audio, this phonics app for iPad is perfect for upper elementary-aged children who are learning to spell."

"I love the audio that comes with this app because it can help autistic children who learn visually connect the words with the sound."

"Even my own son loved using this app and building up his phonic sounds!"

"This app is packed full with variety, customization, and excellent interaction opportunities. Students will truly enjoy learning how to spell and how to sound out phonics. It is visually organized and the phonics are great."

"This phonics app for iPad is certain to encourage them to become spelling pros in no time!"
Crazy Mikes Apps has recently reviewed Simplex Spelling Phonics - Advanced Phonograms giving it 4.5/5 heads. Following are a few excerpts from Crazy Mike's review.
"The introduction has 11 different words to spell, each with an explanation relevant to the use of this application. Going through this application, I found it to be a very smooth way to teach kids a lesson within a lesson — quite brilliant."

"Pyxwise Software Inc. has also made this app relevant to kids with special learning needs by providing lots of touch learning options (drag and drop, tap to type, colored letter cells), as well as the inclusion of both audio and text content."

"This Education app is also a fantastic learning tool for a school, church, family or group learning setting because it allows for up to 40 unique individual profiles, each with its own progress tracking, which is a very useful feature to have. This is a standard feature found in applications by this developer."

"If there is a spelling app brand that I would recommend to parents or teachers for ease of use, value, and quality of learning content, it would be the Simplex Spelling Phonics spelling apps — which includes this particular app."
Dec 10th, 2012
Jayne Clare from Teachers With Apps was kind enough to post a review of Simplex Spelling Phonics - Advanced Phonograms on the TWA site. The goal of Teachers With Apps is to be a credible resource for quality educational apps.

"This app is a powerful tool for both teachers and parents. Craig Welburn, with his partner Dr. Lisa Welburn Ph.D., have once again created another amazing app to promote literacy. Pyxwise is often referred to as Phonics at its finest by many educational experts, and after experiencing their apps you will understand why!"

"These exceptional apps teach children "how to spell" English words, by explaining how the English language works and by building phonological and phonemic awareness skills that are critical in becoming an adept speller."
The iMums posted a great and very thorough review today of Simplex Spelling - Phonics Advanced Phonograms giving it 5/5 stars. The iMums are four mothers from different parts of the world that are dedicated to educating parents about the best digital stories, educational apps, fun games and technology products available for their children.

If you are looking for a series of apps that actually teaches your child how to spell (rather than just memorizing spelling lists) you can't go wrong with the Simplex Spelling series. If you have a child in 3rd grade up ready to tackle more complex spelling rules then this is a must have app.

This app has a huge amount of material in it, and covers a whole year of spelling lessons. As well as working on phonics, it also covers syllables, spelling rules, contractions and the capitalization of proper nouns. It is useful in the classroom as well as the home setting as it supports up to 40 student profiles.

Where the Simplex Spelling apps excel is teaching your child how to spell, and this app moves on from the basics taught in the previous apps in the series, to teaching quite complicated phonemes. I really like how individualized the hint system is.
Dec 7th, 2012

We are excited to announce that Simplex Spelling Phonics - Advanced Phonograms for iPad®, iPhone® 3GS-5 and iPod touch® (3rd-5th generation) is available starting today on the App StoreSM. For a limited time, in celebration of our launch, Pyxwise Software is offering Simplex Spelling Phonics - Advanced Phonograms for only $0.99, 80% off of the regular price of $4.99. Get it now!

Dec 6th, 2012
Kylie Turner, an experienced educator, posted a review of of Pyxwise's newest app "Simplex Spelling Phonics - Advanced Phonograms" on her blog iTeach Apps For The Classroom. We're thrilled that she also gave it an "Educator's Choice" award. Below are a few quotes from Kylie's review. Check out the full review for more details about "Advanced Phonics" which will be available on the App Store starting tomorrow Dec 7th, 2012.

"Simplex Spelling – Advanced Phonograms exceeded my expectations.  As soon as I opened the app, I was immediately in awe of the design and educational thought that has gone into this product."

"For children to be able to learn to read and write they need to be provided with systematic structure, and direct guidance or scaffolding. Simplex Spelling – Advanced Phonograms does this very nicely"

"It could be used in the classroom by a teacher as part of a literacy block with all students or as a specialised instruction tool to help specific students gain mastery in spelling, contractions, syllables (including multisyllable) and more.
It could also be used by a speech language pathologist in a therapy session or at home under parental guidance."

"I can write all day about Simplex Spelling – Advanced Phonograms. I love it that much!"
Dec 4th, 2012
We are honored that the team at KinderTown have selected Simplex Spelling Phonics - Advanced Phonograms to be listed in their KinderTown app. The great folks at KinderTown work hard to find the best educational apps for children. Each app that they select for KinderTown has been tested and reviewed by educators, parents, and most importantly, children.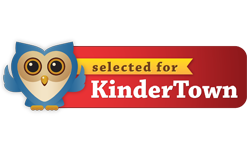 "Simplex Spelling Phonics – Advanced Phonograms is the most advanced content in the amazing phonics series created by Pyxwise Software. With each of these apps, kids learn through supportive self-correction, short teaching moments and applicable lessons that pair well with their educational experiences. This app goes beyond spelling practice to actually teach and connect a tremendous amount of educational content in small manageable bites."