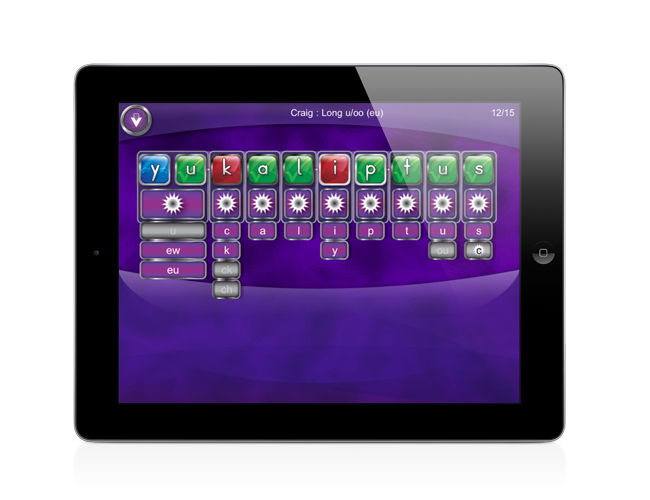 Description
Simplex Spelling - Advanced Phonograms teaches over a year of spelling curriculum covering more than 800 high frequency words divided into 52 lists that are organized by spelling patterns and difficulty levels. Each of the 52 lists comes with a lesson that teaches one of the basic building blocks of spelling in the English language. These basic building blocks include syllables, sounds, spelling rules and some of the more advanced English phonograms.
Simplex Spelling Advanced Phonograms focuses on more difficult phonograms in the English language. The lessons cover less commonly appearing phonograms along with those that appear in more difficult to spell words. The phonograms covered include: au, aw, ou, ui, ear /er/, oe, ph, gn, ew, eu, ei /e/, ei /a/, eigh, ch /k/ and ch /sh/. There are additional lessons covering contractions, the capitalization of proper nouns, 'w' control sounds and the use of 'i' for the long e sound in words of foreign origin.
Students learn a new concept for each lesson building on the skills learned from previous lessons and those covered in Simplex Spelling Phonics 1 & 2. Simplex Spelling Phonics Advanced Phonograms guides the student and acts as a personal spelling coach with every word, while teaching students "how to spell" English words. Every word is broken down into its syllables both visually and auditorily to help students build phonological awareness skills. Our "reverse phonics" hint feature breaks each word down further into individual phonemes to improve phonemic awareness, a critical skill in achieving literacy.
Simplex Spelling Advanced Phonograms is recommended for students that are at least nine years of age.
Resources:
Scientific research validation of Simplex Spelling series
Word Lists
Screen Shots
Press Kit
FAQ
What others are saying:
| | | |
| --- | --- | --- |
| | | |
| | | |
| | (Top Pick) | |
| | Technolog In SPL Education | |
| | (5/5 Stars) | |
Featured by Apple as New & Noteworthy:
Shortly after launch Simplex Spelling - Advanced Phonograms was featured by Apple as New & Noteworthy in 20 countries including the US and Canada.
Academics' Choice Award Reviewers:
"This is an extremely powerful app packed with advanced spelling concepts appropriate for 3rd grade and above. But what separates Simplex Spelling Advanced Phonograms from its competitors is its exceptional ability to introduce loads of challenging content in small bits. The user will not be overwhelmed. Instead, he/she will find audio and visual hints coupled with a self-correcting approach to aid in the mastery of each activity. We highly recommend this product."

"Awesome app! My son really enjoyed playing it!"
Balefile Labs Inc ("Best Educational App of 2014" Award):
Balefire Labs has awarded Simplex Spelling Phonics - Advanced Phonograms its "Best Educational App of 2014" award. In 2014 Balefire Labs reviewed more than 2,000 educational apps in different categories for ages 0-19+ yrs with only 18 apps receiving the "Best Educational App of 2014" award. This puts Simplex Spelling in the top one percent of all educational apps reviewed by Balefire Labs.
iTeach: Apps for the Classrom (Educator's Choice):
"Simplex Spelling – Advanced Phonograms exceeded my expectations.  As soon as I opened the app, I was immediately in awe of the design and educational thought that has gone into this product."

"For children to be able to learn to read and write they need to be provided with systematic structure, and direct guidance or scaffolding. Simplex Spelling – Advanced Phonograms does this very nicely"

"It could be used in the classroom by a teacher as part of a literacy block with all students or as a specialised instruction tool to help specific students gain mastery in spelling, contractions, syllables (including multisyllable) and more.
It could also be used by a speech language pathologist in a therapy session or at home under parental guidance."

"I can write all day about Simplex Spelling – Advanced Phonograms. I love it that much!"


"This app is a powerful tool for both teachers and parents. Craig Welburn, with his partner Dr. Lisa Welburn Ph.D., have once again created another amazing app to promote literacy. Pyxwise is often referred to as Phonics at its finest by many educational experts, and after experiencing their apps you will understand why!"

"These exceptional apps teach children "how to spell" English words, by explaining how the English language works and by building phonological and phonemic awareness skills that are critical in becoming an adept speller."


If you are looking for a series of apps that actually teaches your child how to spell (rather than just memorizing spelling lists) you can't go wrong with the Simplex Spelling series. If you have a child in 3rd grade up ready to tackle more complex spelling rules then this is a must have app.

This app has a huge amount of material in it, and covers a whole year of spelling lessons. As well as working on phonics, it also covers syllables, spelling rules, contractions and the capitalization of proper nouns. It is useful in the classroom as well as the home setting as it supports up to 40 student profiles.

Where the Simplex Spelling apps excel is teaching your child how to spell, and this app moves on from the basics taught in the previous apps in the series, to teaching quite complicated phonemes. I really like how individualized the hint system is.
"As we know, most autistic children learn visually. Because Simplex Spelling provides both visuals and audio, this phonics app for iPad is perfect for upper elementary-aged children who are learning to spell."

"I love the audio that comes with this app because it can help autistic children who learn visually connect the words with the sound."

"Even my own son loved using this app and building up his phonic sounds!"

"This app is packed full with variety, customization, and excellent interaction opportunities. Students will truly enjoy learning how to spell and how to sound out phonics. It is visually organized and the phonics are great."

"This phonics app for iPad is certain to encourage them to become spelling pros in no time!"


KinderTown - Carolina Nugent, Director of Education
"Simplex Spelling Phonics – Advanced Phonograms is the most advanced content in the amazing phonics series created by Pyxwise Software. With each of these apps, kids learn through supportive self-correction, short teaching moments and applicable lessons that pair well with their educational experiences. This app goes beyond spelling practice to actually teach and connect a tremendous amount of educational content in small manageable bites."

Technology In Special Education (5/5):

"This app is great for working on spelling through the use of phonograms (symbols of one or more letters in English that represent a particular sound in speech e.g. "aw" , "ou" and syllabication (dividing a word into its spoken or written syllables). There is a large amount of content available for kids to work on and the setup is done very well. "
appoLearning (Top spelling app)
"Very few spelling apps actually teach about spelling concepts. Most simply test what students already know. This app systematically teaches and assesses a broad range of phonics principles in a clear, straightforward manner."
Crazy Mike's Apps (4.5/5):
"The introduction has 11 different words to spell, each with an explanation relevant to the use of this application. Going through this application, I found it to be a very smooth way to teach kids a lesson within a lesson — quite brilliant."

"Pyxwise Software Inc. has also made this app relevant to kids with special learning needs by providing lots of touch learning options (drag and drop, tap to type, colored letter cells), as well as the inclusion of both audio and text content."

"This Education app is also a fantastic learning tool for a school, church, family or group learning setting because it allows for up to 40 unique individual profiles, each with its own progress tracking, which is a very useful feature to have. This is a standard feature found in applications by this developer."

"If there is a spelling app brand that I would recommend to parents or teachers for ease of use, value, and quality of learning content, it would be the Simplex Spelling Phonics spelling apps — which includes this particular app."


Fun Educational Apps (Top Pick).
"Simplex Spelling Phonics - Advanced Phonograms is another top learning app by Pyxwise Software for iPhone/iPod/iPad. It is a powerful educational app designed for kids 9 and older to teach students how to spell over 750 high frequency words"

"it is a unique and powerful learning tool for teachers, homeschoolers and parents. Beautifully crafted and well designed app for upper elementary students to learn advanced phonics skills, such as syllable rules, contractions and vowel combinations via 52 lessons."

Kids Best iPad Apps (5/5 stars)
"Simplex Spelling Phonics - Advanced Phonograms" is an app that truly delivers on the promise of helping kids 9 year old and older become better at spelling and reading."

"the instruction is excellent as the teacher provides help throughout each lesson--almost as if your child has a personal coach at home."
Best Apps For Kids (4.5/5 Stars)
"The design elements used in Advanced Phonograms come together nicely to create a positive learning environment; colors and sounds will not distract, narration is easy to understand and user feedback is always positive. A design that is likely to appeal to most in the targeted audience."

"Advanced Phonograms is a universal app loaded with features and content. The high quality design works well on either device. The ability to create and customize up to 40 user accounts makes this a great value for families or schools. With over 750 words it's not likely that you will run out of content quickly; rather it is an app that has some longevity on your device."