During its launch, Simplex Spelling Phonics 2 has been featured by Apple as New & Noteworthy in 18 different countries including the US. Apple has now featured Simplex Spelling Phonics 2 for three consecutive weeks under the education category.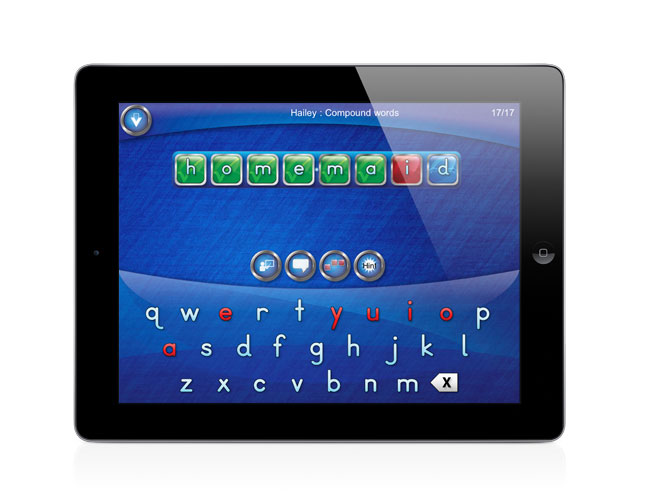 (App of the Day)

(Highly Recommended)

Technolog In (SPL) Education

Smart Apps For Kids
(The Best of the Best)
Description
The newest version of Simplex Spelling teaches English spelling and reading skills with a focus on syllables to strengthen phonological awareness. It introduces accented and unaccented syllables, open and closed syllables, compound words, consonant doubling, and a number of advanced phonograms that have not been covered in our introductory phonics app, Simplex Spelling Phonics 1. Phonics 2 uses a powerful combination of syllabication, advanced phonics lessons, spelling/word patterns, our unique "reverse phonics" approach and contextually relevant spelling rules.

Simplex Spelling Phonics 2 contains over one year of spelling curriculum and features over 650 high frequency spelling words to help build literacy. It provides 54 instructional lessons in phonics and spelling rules. Each lesson builds upon the skills learned in previous lessons, and students piece their spelling words together in a fun and interactive way. Simplex Spelling Phonics 2 uses our unique "reverse phonics" approach that acts like a personal spelling coach and guarantees success on every spelling word.

Spelling in the English language is often made difficult by the fact that the stressed syllable of a word is often spoken correctly, while the unstressed syllables are often spoken quickly with indistinct vowel sounds. In order to spell well, a student needs to know how a word is broken into its syllables, and how each syllable would sound if it were a stressed syllable. The words in Simplex Spelling Phonics 2 are broken into syllables both visually and auditorily. As each word enters the screen, its syllables are spoken clearly and distinctly as they drop down. In this way the student learns how to sound out a word in order to spell it. Once the word is on the screen, the student can still break it down further by using the hint button to hear each phoneme and uncover each individual phonogram. In this way Simplex Spelling Phonics 2 teaches multiple levels of phonological and phonemic awareness by breaking words first into syllables, and then into the smallest units of sound, phonemes. Learning phonological awareness, phonemic awareness and phonics are all critical steps towards becoming both a great reader and speller.[1]

In addition to its focus on syllables, Simplex Spelling Phonics 2 presents compound words. It highlights accented syllables and explains the schwa sound for unaccented syllables. It describes the difference between open and closed syllables and discusses consonant doubling. It explains numerous reasons for using a silent E, and it introduces a number of new and more advanced phonograms.
Along with its new content, Phonics 2 also contains a number of new features: students can now view the spelling lists directly from the home menu; teachers and parents can now choose the number of times that a word needs to be correct before it will be called "Mastered"; students can view the words that they missed upon reaching the end of a list if they have scores turned on; and the maximum number of user accounts has been increased to 40 making it ideal for classroom use.
Simplex Spelling online resources
Scientific research validation of Simplex Spelling series
A4cwsn demonstration video
Tobi Price, Assistant Principal demo video
Screen shots for iPad.
Screen shots for iPhone.
Word Lists.
FAQ
What others are saying:
KinderTown - Carolina Nugent, Director of Education
'"Simplex Spelling Phonics 2 Syllables" is the app I wish I had in the classroom over the last few years to recommend to parents and to use. It provides solutions to struggles both parents and teachers face. Also, as a reviewer, the app stands out in many ways as doing something different and valuable for our kids and families.'

"Simplex Spelling has a feedback method that rivals anything a teacher can do in the classroom. "

"Simplex Spelling is an app that understands that what teachers are taught in their training programs is knowledge that should be shared with parents too. Each of the 54 lessons has a short phonics lesson and complete word list that gets parents involved in the learning. All the knowledge is given to the user so they can apply it on and off the app."

"Enjoy using Simplex Spelling Phonics 2 and watching your child blossom with this excellent phonics and spelling experience."
"No other literacy apps are this comprehensive."

"Over and over Pyxwise has produced top-notch material and always takes the time to perfect their apps with updates. Simplex Spelling Phonics 2 was well researched and every detail has been attended to with the utmost care."

"Simplex Spelling Phonics 2, by Pyxwise Software, has just made their stellar collection of educational apps even better, A wonderful addition to their already wonderful repertoire, and a perfect segue from Simplex Spelling Phonics 1."
Academics' Choice Award Reviewers:
"This app is a teacher's dream. There is not an educational app on the market that is as comprehensive and effective as Simplex Spelling Phonics 2. Each lesson builds on previous skills introduced and words are "chunked" or divided by syllables to simplify the process of sounding out words. Audio and visual hints are available as well to help the child as he/she learns. Each specific word can be repeated as many times as the user needs to hear it before attempting to spell it. Teachers can check the progress of any student with ease."

A4cwsn - Tobi Price, assistant school principal
"This app is very well made, easy to use, and engaging. Simplex Spelling would be especially useful in the classroom for teachers."

"Simplex spelling app speaks to visual, auditory and kinesthetic learners. There are visual clues to help spell the words. Lots of things to touch and drag. One of my favorite features is how you can replay any parts of the lessons and hear the words in their sentences as many times as you need to."

"Simplex Spelling allows teachers (and parents) to track their kids progress. You can set up multiple user accounts and keep track of the student's progress through the lessons. Technology pessimists in education will say that students using iPads are just playing games. Apps, like this one, that give teachers data to show student's progress help prove the pessimists wrong."

"Great for student's who are working in the TIER process to improve their spelling skills. Their are over 40+ lessons in the app. That is a lot of structured content to help students improve."

"There are NO pop up adds or in app purchases cluttering up the screen. This way students can focus on the content and teacher's won't have to worry."

"The thing that stands out the most to me is the amount of content you are getting for the price. Most apps don't offer as much as Simplex Spelling does. I will be sharing this with other parents and teachers in my building. This app is worth the money, and I believe will help your child."
Speech Language Neighborhood - Amanda Backof, SLP (Speech Therapy App of the Week)
"Every week, I search through thousands of apps on iTunes looking for "The One". The one app that will help me teach phonics to struggling middle school students."

"WOW!!!! I found my miracle app (which seems like a little much to say, but it's true) in Simplex Spelling 2 (and 1) Phonics! Not only does this app help students learn spelling constructs, but it also teaches all of the sounds in words which will, fingers crossed, result in increased decoding skills. It looks mature for middle school students and provides lots and lots of practice. It separates consonant blends into single sounds (Hooray!) and every vowel combination and sound variation are well represented (i.e., the sound "o" can be spelled o, oa, oe, ow, o_e, etc). During the spelling activity, you can access all of the sound variations via the "hint" buttons."
SpecialNeeds.com (App of the Day)
"Simplex Spelling Phonics 2 is bigger and better, with over 650 high frequency words in 54 lessons."

"Simplex Spelling Phonics 2 is an intensive app, and parents, educators, and students get a great deal. The app covers hundreds of high frequency words, and the app improves literacy, spelling, and phonemic awareness, all of which are necessary skills. Through an engaging game atmosphere, children will love testing and improving these skills. Simplex Spelling follows a progression and allows for mastering of spelling skills, so it can meet children on their individual levels and needs."
Listen.Talk.Draw (Highly recommended)
"The app used color coded boxes to help the speller identify the problem and the type of problem. I like this for all students but it is of particular help for students with special needs."

"My third graders on the autism spectrum loved this app. We worked on pronunciation and vocabulary while doing the spelling exercises."

"I highly recommend this app. I am going to recommend it to our AT team for our school district."
Smart Apps For Kids (Top 10 Apps for Second Grade: The Best of the Best)
"The Simplex spelling apps are so solidly designed, teaching spelling in a way that helps kids really learn phonics rules. Learning to spell this way does also influence reading development, as students become more adept at sounding out unfamiliar words."
Technology In Special Education (5/5):
"Simplex Spelling Phonics 2 Syllables is almost like having a personal tutor helping you right alongside you to guide you through the lessons. "

"I love all of the phonetic rules that it covers and the app's emphasis on the syllables. One of the best features in my opinion is the "reverse phonics" hints, as it breaks down the words into individual sounds."

"With it being very user-friendly, having up to 40 users at once, and having a focus on high frequency English words, this app is highly recommended to boost any learner's literacy confidence with both spelling as well as reading."
Crazy Mikes Apps (4.5/5) - Fantastic iOS Spelling App
"Simplex Spelling Phonics 2 Syllables is an excellent iOS spelling application that is sure to help any child spell and read better — maybe even win a spelling bee."

"Now, kids can easily learn how to spell with the use of this app on an iPhone, iPad, or iPod Touch — and have some fun, as well as virtual help while doing so. More than that, this app makes the task of learning spelling much more engaging, which makes learning to spell less of a chore that kids don't want to do. The app has great instruction all the way around, from starting a lesson, during a lesson, to explaining what each spelling learning task is about."

"Besides the massive spelling content in this app, there are a plenty of customization settings for word mastery, language, and practice or score modes. Practice mode is especially good for kids trying a harder lesson, which helps encourage them before keeping score. Another outstanding feature of this app is that it can accommodate up to 40 different users — making it great for schools, large groups, or families, and at the price of only $4.99 — a huge value."
The iPhone Mom (Approved)
"I've mentioned the Simplex Spelling apps on the website before, they are great apps that take a thorough approach to breaking down words and helping children through the spelling process."

"Each of the lists comes with a spelling lesson that teaches a basic concept. So in addition to practicing their spelling children will be learning fundamental spelling rules."

"one of my favorite features in the Simplex series – the way they handle the introduction to the app and the explanation of its features."
"Simplex Spelling Phonics 2 picks up where the first app left off and provides the same fun learning experience for students of all ages."

"One other thing that's really nice about Phonics 2 it's accessibility to older students as well as the young. This means the ESL students and other adult students can benefit from using this app without having to wade through over-cheerful characters, pink unicorns, and rainbows."

"I think you'll find that Simplex Spelling Phonics 2 is a must-have if you have children who need some help with spelling."

"Simplex Spelling Phonics 2 is as impressive as its predecessor and all the other products offered by Pyxwise."
BestAppsForKids (4.5/5 Editor's Choice Award)
"Simplex Spelling Phonics 2 is like having your own personal tutoring sessions."

"Simplex Spelling Phonics 2 has a design that makes it appealing to all ages. It is easy to navigate and includes plenty of in-app assistance for parents or teachers customizing the app or children using it to improve their spelling. Color choices used in the design of the app are very pleasing, as are the sound effects and narration."
"Simplex Spelling Phonics 2 is an excellent learning tool for pre-elementary to elementary students to improve their English spelling and reading skills. This app is an invaluable tool for parents who want their children to have an edge going into school or for teachers who want to enrich their students' learning experience."

"Among the loads of features this application has, it allows for multiple user profiles and statistics tracking for each profile. The app can keep track of what words or lessons have been mastered or need more practice. Parents, guardians, or teachers can define what "mastered" is through the settings and be able to constantly keep track or their children's progress. Your children will definitely be using and learning from this very educational app for a long time."

"The app has an excellent Introduction module that explains what the app is, what users have to do, and what the buttons functions are within each page."
fun2tap (4.5/5)
"This App provides an engaging and enjoyable way to practice English spelling and reading skills - like learning syllables, phonics, phonograms, and spelling rules."

"Simplex Spelling 2 will help your children gain confidence with spelling and reading."
AppySmarts (86/100 Editor's Favorite)
Bottom line: an excellent choice for teachers and parents.
1.Report of the National Reading Panel (April, 2000). "Teaching Children to Read" | Summary Report